In addition to being mandatory by law, the unsubscribe link is very helpful for you to avoid being marked as a spammer. By having a visible unsubscribe link, your recipients can easily unsubscribe from your mailings lists, otherwise they may mark your message as spam.
When using our template builder,
the unsubscribe link is
automatically
added to the footer.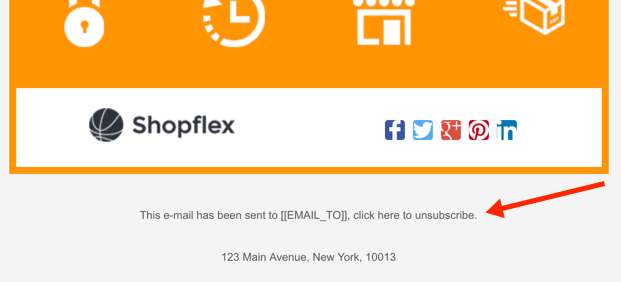 If you look at the hyperlink for the default unsubscribe link, you will see a special unsubscribe variable:
[[UNSUB_LINK_LOCALE]]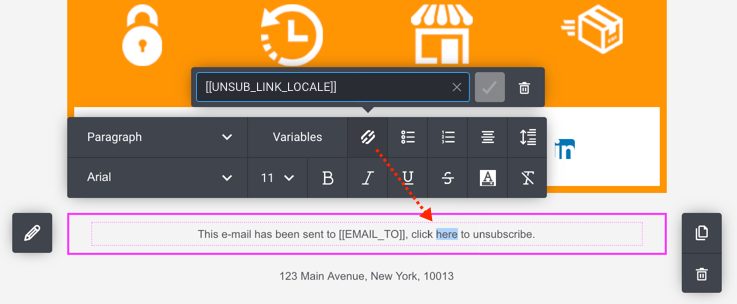 This variable is used to unsubscribe the recipient from the contact list. (The
"LOCALE"
represents the language of the campaign and defines the language of the subsequent unsubscribe pages, which is automatically handled by
Mailjet's Email Editor
.)
You can customize the footer (including that unsubscribe link), as long as you keep the [[UNSUB_LINK_LOCALE]] to enable your recipients to unsubscribe from your mailing list.
Please note: You're required by law to have an unsubscribe link in your campaign, so if you do not have an unsubscribe link, our Email Editor will automatically re-add the default footer upon saving, previewing or sending your campaign or template.
If you are using the HTML editor in the Email Editor,
add the unsubscribe variable as a link:
<a href="[[UNSUB_LINK_EN]]">click here to unsubscribe</a>
If you go through our SMTP Relay,
you can also use: [[UNSUB_LINK_EN]]
If you send the campaign via the
'magic' email list
(xxxx@lists.mailjet.com) that appears in the top left of your contact list, the 'unsubscribes'
will automatically
be updated on that contact list. If you
do not use
the 'magic' email list, the contacts will be marked as "unsubscribed" in your statistics, but they will not be unsubscribed from your list; it would be up to you to manage the unsubscribed emails.
When sending via SMTP, you do not need to use our link but you need to provide an unsubscribe link in all newsletters as per our
Sending Policy
.