Summary
Technical Support
You can contact Mailjet support from the Support center page directly from your Dashboard. Click the "Question Mark" icon located at the top of the page and then "Support center" from the drop-down menu: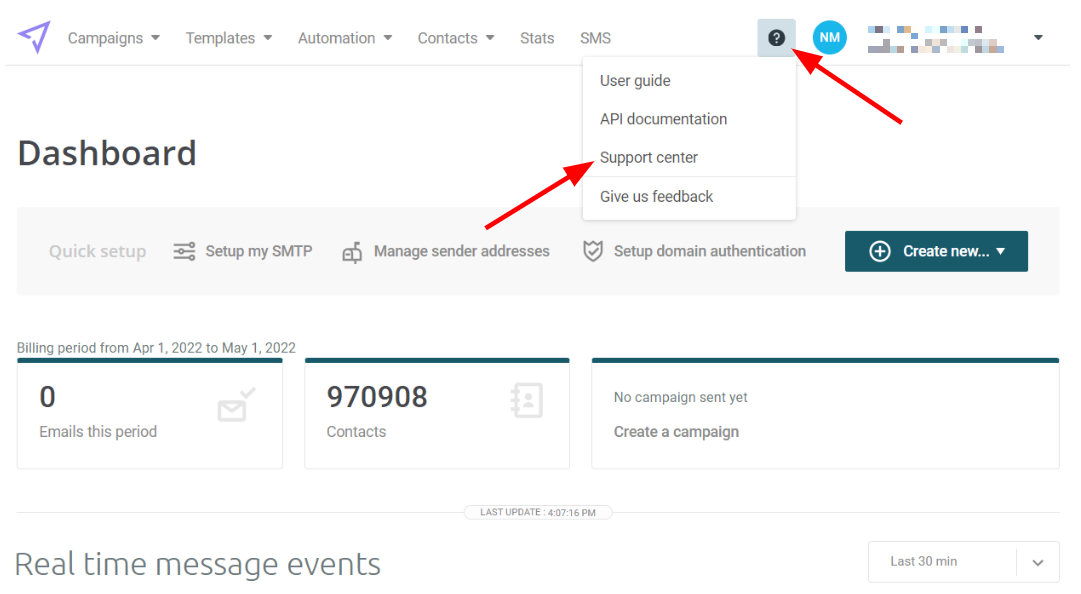 All paying customers have the option to submit a ticket using our web form. Customers with a Premium 50,000 plan or higher also have access to chat and phone support.
Note: To help you get started, we provide 30 days of free ticket support for new Free accounts.

Before creating a support ticket, however, please browse our Support Center page. We have a variety of articles that can help you with your questions. Use the search box to find articles related to your request.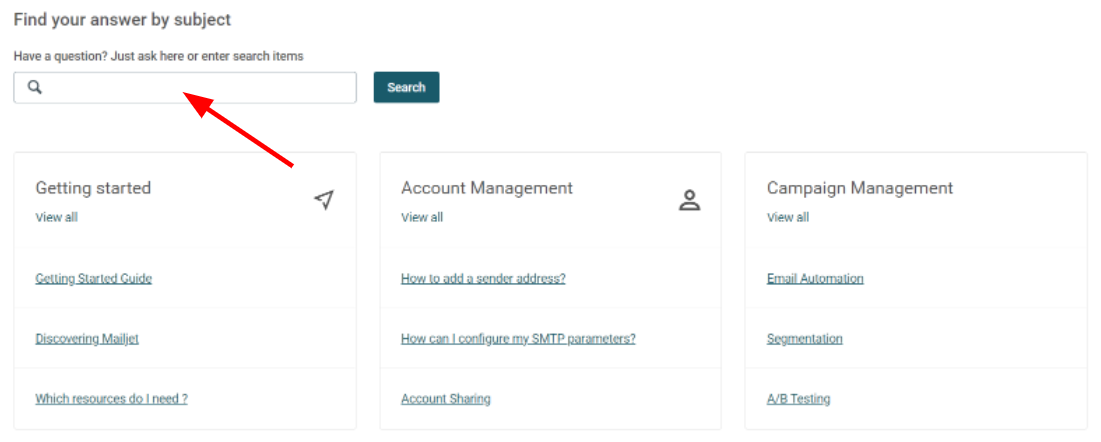 If you still need assistance after reviewing the Support Center articles, choose one of the three options (depending on your subscription) to address your question to our support team:
Ticket support

Chat support

Phone support

If you're wondering which type of support is best for you, check out our article outlining the pros and cons of each support channel.
When creating a support ticket, please ensure that you are providing as many details as possible regarding the request. The ticket form accepts attachments should you have a picture of an error message you are receiving. Once all the details have been entered, click "Open this ticket" to submit your support request. The newly created ticket will appear on the Mailjet Support Center page:

When choosing chat or phone support, our agent will ask you to provide a support PIN to verify your identity.
The support PIN can be found on the support center page, next to the support options:

Support Hours
Ticket support - 24/7
Chat support -

Monday through Friday from

9:00AM - 6:00PM (

CET)

Phone support -

Monday through Friday from

9:00AM - 6:00PM (

CET

)
Support Languages
Ticket support - English / French / German / Spanish
Chat support - English / French
Phone support - English / French
Affiliate solutions
Reseller Program
Looking to embed Mailjet's comprehensive APIs and iframes into your product, platform, or agency service?
With our White & Black label solutions, you can integrate sub-accounts, a drag-and-drop responsive newsletter editor, campaign & contact list management, statistics, dedicated IPs, and a lot more. You can enter our reseller program by submitting the following form.
Agency Program
As your agency grows, your email needs also evolve. With custom features and services tailored to your needs, Mailjet partners closely with agencies sending over 900,000 emails/month for their customers. Fill out the following form, and our sales team will get in touch to discuss your needs.
Other Questions
For all other questions, please visit our contact page and select a topic related to your inquiry.
Give us your Feedback
We appreciate your comments, suggestions, and ideas. Your feedback will help us improve the Mailjet experience for everyone.
If you'd like to submit your Feedback directly from your account, we have a simple form that you can use:
You can also submit your feedback by signing into our Feature request page.